Finally a new laptop, Acer Aspire V5
a brief review of a new budget ultrabook laptop purchase that replaced an ancient laptop that weighed a ton

Not sure how it comes about, but although I delve in technology almost 24/7, in the end I seem to end up with some really old stuff myself. Not that this is always a bad thing - old quality speakers easily beat most of the speakers in showrooms these days. The same is true of my Technics turntables which with proper needles and a good amplifier produce a warm sounds which can put many club system to shame. Sadly, this is not the case for my ancient Dell E1505 Inspiron laptop which I've been lugging around for longer than I can remember. I have to give credit where it is due though, this brick of a monster which must weigh at least 7 lbs, has simply refused to die. The screen hinges have come loose and cracked, the bottom side has deformed due to an overheating processor and a failed fan, the battery doesn't last more than 45 minutes at a time, but when plugged in, this beast just keeps on going even after 8 years or so. Maybe, had I've not had a company laptop over the last 6 years or so I would have replaced it earlier, but given my nature of not fixing what is not completely broken, that is rather unlikely.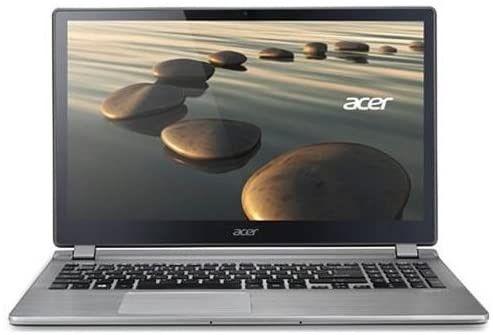 Anyhow, late last year I figured that lugging around this monster was really beginning to take a toll on my shoulder and patience, so it was time pick up something new. The criteria were rather simple: Something lighter, something thinner, comparable screen size, and of course good battery life. The latter mostly important on long flights where there are no reasonable entertainment options on board or when the magazines I have on hand just don't keep me entertained. Believe it or not, but even after all these years a good game of Civilization IV or V will make any flight pass by rather quickly. I digress, the last criterion was a reasonable price which is precisely where the problems began. It seemed that a reasonable light Ultrabook with a 15" display, a 1920 x 1080 resolution screen, and a 4th generation Intel processor was hard to come by - at least in the sub $600 range. I actually looked around for quite a bit and almost called it quits, when I ran across a sale on the Acer V5-573P- 6896. I ended up getting it for a little under $500 after tax, which I think turned out to be a pretty good deal.[1]
This laptop is by no means a high-end machine but it has the essentials I wanted: a 15.6" Full HD IPS screen, a 4th generation i5 processor, is less than 1" thick, and came in a package which weighed in at less than 5 lbs. It also came with a few bells and whistles I was not specifically looking for such as USB 3 and a touch-screen. The former is actually quite useful for transferring large amounts of data. The latter one on the other hand, even after 3 months of use, still very much feels like a gimmick. There are places where touch screens work such as cell phones, tablets, and ticket kiosks, but I rarely find practical use for them on laptops. I seem to only use it for either quickly unlocking the screen or for when I'm lazily browsing the web and just need to scroll up and down articles in the browser. If I had my choice I would have traded the touch-screen for longer battery life, which at about 6 - 7 hours is not bad, but 8 hours would have been even better.
The screen itself though is absolutely gorgeous, with vibrant colors and great brightness even is sunny daylight conditions. The hinges are relatively firm, probably to support the touch-screen, which is great as the screen does not swivel when you pick up the laptop with one hand. The laptop came only with 4GB of ram, but I've already installed an extra 8GB for a total of 12GB which is the maximum this laptop will support. I used the following G.SKILL memory module in case you are interested in doing the same. The install took all but 5 minutes and only entails removing about 16 or so tiny screws on the back which then nicely exposes the additional memory slot. The laptop comes with a conventional 500GB hard-disk, and not a solid state drive, but at this price this is to be expected. Even with this drive the boot-times and wake-up times are phenomenal.
I'm not going to spend much time complaining about Windows 8, as the web is already full of complaints. Suffice it to say that even after a few months of use I'm not really much of a fan, and tend to use it mostly in desktop mode where it can be configured to look and feel very much like Windows 7. I don't mind the Windows 8 tile interface on my other devices such as my Nokia Phone where it works great, but on a large laptop screen I really don't have much need for full-screen applications, as I tend to multitask between many windows and apps which are open concurrently. Single app full-screen focus makes sense on devices where screen real estate is really limited. My other major gripe with the system is the Synaptics touchpad. It does work, but the default settings seemed way too sensitive for me and it took me quite a while to adjust them to my liking. Also, I'm not a fan of not having physical buttons at the bottom of the touch-pad, or at least some indentations which would help with finding these clickable buttons which are embedded into the touchpad when working in the dark - sometimes it is hard to tell where exactly your thumb is located given the large size of the touch-pad.
The back-lit keyboard is fair at best and the feedback on the keys is rather shallow. I personally would like a bit more travel on the keys but I'm guessing this is one of the trade-offs when opting for a really thin laptop. The speakers sound fairly good although being located at the bottom of the laptop rather than the top they won't work very well when the laptop is placed on a soft surface. The headphone jack provides a very clean sound output with no noticeable noise from other system components - given that I have a several sets of very good headphones I'll go that route most often anyhow. The laptop case is very plasticy but at least it does not look too cheap. I have a dings on the edges after about 3 months of use, so if you want to keep it in pristine condition I would highly recommend obtaining a case for it. As a final note, this Aspire does not come with a physical drive or any physical media, so you are advised to make a default system backup to a USB stick. Anyhow, apart from the couple minor issues mentioned earlier, I'm very happy with the laptop thus far, especially given the price I paid. If you are not stuck on getting an Apple, must have aluminum casing, or need something which weighs less than 3 lbs, you may want to give this one a shot.
---
Sometimes you get what you pay for. The Acer did not last nearly as long as I hoped for. First the keyboard started having issues with several failing keys and then half of the screen went dark. It has since been replace by a refurbished HP Spectre x360, and subsequently by a Dell XPS after I accidentally shattered the HP screen. ↩︎